Kamerawan.com
- Olympus OM-D E-M5 merupakan salah satu produk keluaran Olympus yang memiliki desain yang cukup unik dan pastinya berkualitas tinggi. Kamera ini dirancang supaya sefleksibel mungkin agar pengguna yang memilikinya merasa nyaman membawa kamera ini kemana-mana.. Hadir dengan desain retro membuat setiap orang yang membawanya akan terlihat semakin kece. Selain itu, bodi dari kamera ini terbuat dari magnesium alloy yang lebih tahan terhadap cuaca ekstrim dan didukung juga dengan pemasangan seal weatherproof yang dipasang pada setiap sambungan dari kamera, jadi anda tidak perlu khawatir jika kameranya terkena percikan air. Berada di tengah-tengah, EM-5 ternyata memiliki harga tidak semahal pendahulunya EM-1, tapi memiliki fungsionl yang ternyata melebihi EM-1.
Kamera
Olympus OM-D E-M5
dilengkapi dengan sensor live beresolusi 16 megapiksel yang dioptimalisasikan dengan lensa digital m.Zuiko yang memiliki kemampuan membidik dalam berbagai kondisi dan meminimalisir tingkat noise. Selain itu, kamera ini juga memiliki electronic viewfinder (EVF) dengan 120fps refresh rate serta resolusinya 1,44 M. Dengan LCD panel memungkinkan kamera ini untuk mengambil langsung apa yang ditangkap dari lensa sensor. Untuk ISO paling rendah yang dimiliki kamera ini adalah ISO 200 dan saat zoom 100% akan terlihat seperti bintik-bintik noise, namun jika dilihat lagi penyebarannya terlihat cukup organik malah seperti tekstur sehingga tidak akan mengganggu pemandangan. Selanjutnya kamera ini memiliki 5-Axis Image Stabilization dengan Angular body shake, shifting body shake dan Rolling body shake. Jika kamera pada umumnya hanya merekam pada sisi tengah, maka beda halnya dengan E-M5 yang mampu merekam pergerakan pada sisi background. Karena fitur inilah membuat E-M5 mampu merekam momen secara ekstrim dengan dukungan image stabilization pada body kamera. Sedangkan 5-Axis IS dihadirkan untuk memastikan stabilisasi yang sempurna untuk pengambilan gambar telephoto shots, macro close-ups, dan long exposures.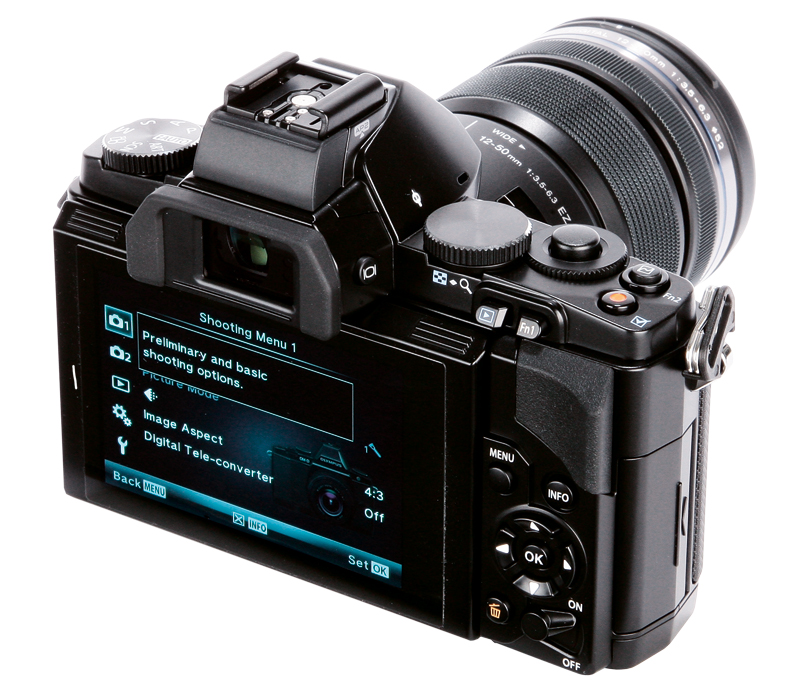 Kelebihan kamera Olympus OM-D E-M5
Olympus OM-D E-M5 memang memiliki teknologi yang mumpuni, salah satunya adalah teknologi F.A.S.T (Frequency Acceleration Sensor Technology) dan AF Sistem yang memungkinkan anda mengambil gambar dengan kecepatan fokus yang luar biasa. Ditambah dengan 3D Tracking AF memastikan anda tidak akan kehilangan momen ketika subyek yang ingin diambil bergerak menjauh dan high-sensitiviy image sensor memastikan performa AF yang optimal bahkan saat lokasinya memiliki pencahayaan yang minim. Selain itu, anda bisa lo langsung mentransfer hasil bidikan ke smartphone atau gadget lainnya dari kamera langsung tanpa harus melalui komputer. Kemudian jika ada konektivitas wifi, anda bisa mentransfer foto, mengatur kecepatan rana, dan mengatur self-timer melalui smartphone atau tablet bersistem iOS dan android.
Perbandingan kamera Olympus OM-D E-M5 II, E-M5 dan E-M1
Spec
Olympus OM-D E-M5
Olympus OM-D E-M5 II
Olympus OM-D E-M1
Pixel count
16MP
16MP
16MP
Image stabilization
5-axis
5-axis
5-axis
Stabilization (CIPA)
4 Stops
5 Stops
4 Stops
Max shutter speed
Jan-00
Jan-00
Jan-00
(1/16000 electronic)
On-sensor PDAF
No
No
Yes
Continuous shooting (without /with AF)
9fps / 3.5fps
10fps / 5fps
10fps / 9fps
Flash
Clip-on
Clip-on
Clip-on
Fixed direction
Tilt/bounce/rotate
Fixed direction
Viewfinder
1.44m dot LCD
2.36m dot LCD
2.36m dot LCD
1.15x mag
1.48x mag
1.48x mag
Max video res/rate
1080/30p
1080/60p
1080/30p
Max bitrate
17Mbps
77Mbps
24Mbps
Mic socket
No
Yes
Yes
Rear screen
Tilt 3.0" OLED
Fully-articulated
Flip up/down
touchscreen
3.0" touchscreen
3.0" touchscreen
0.61m dots
1.04m dots
1.04m dots
Wi-Fi
No
Yes
Yes
Accessory Port?
Yes
No
Yes
Environmental sealing?
Yes
Yes
Yes
Battery life (CIPA)
360
310
350
Weight
425g
469g
497g
Dimensions
121 x 90 x 42mm
124 x 85 x 45mm
130 x 94 x 63mm

Spesifikasi Lengkap Kamera Olympus OM-D E-M5
Body type
Body type
SLR-style mirrorless
Body material
Magnesium alloy
Sensor
Max resolution
4608 x 3456
Image ratio w:h
1:1, 4:3, 3:2, 16:9
Effective pixels
16 megapixels
Sensor photo detectors
17 megapixels
Sensor size
Four Thirds (17.3 x 13 mm)
Sensor size notes
High resolution mode produces Raw images at 9216 x 6912 or JPEGs at 7296 x 5472.
Sensor type
CMOS
Processor
TruePic VII
Color space
sRGB, AdobeRGB
Color filter array
Primary color filter
Image
ISO
Auto, 200-25600, expands to 100-25600
White balance presets
7
Custom white balance
Yes (4 slots)
Image stabilization
Sensor-shift
Image stabilization notes
5-axis
Uncompressed format
RAW
JPEG quality levels
Superfine, fine, normal, basic
File format
JPEG (Exif v2.3)
Raw (Olympus ORF format)
MPO (3D)
Optics & Focus
Autofocus
Contrast Detect (sensor), Multi-area, Center, Selective single-point, Tracking, Single, Continuous, Touch, Face Detection, Live View
Autofocus assist lamp
Yes
Manual focus
Yes
Number of focus points
81
Lens mount
Micro Four Thirds
Focal length multiplier
2×
Screen / viewfinder
Articulated LCD
Fully articulated
Screen size
3″
Screen dots
1,037,000
Touch screen
Yes
Screen type
TFT-LCD
Live view
Yes
Viewfinder type
Electronic
Viewfinder coverage
100%
Viewfinder magnification
1.48×
Viewfinder resolution
2,360,000
Photography features
Minimum shutter speed
60 sec
Maximum shutter speed
1/16000 sec
Exposure modes
iAuto, Program, Aperture priority, Shutter priority, Manual, Bulb, Time
Scene modes
Portrait, e-Portrait, Landscape, Landscape + Portrait, Sport, Hand-held Starlight, Night scene, Night + Portrait, Children, High Key, Low Key, DIS mode, Macro, Nature Macro, Candle, Sunset, Documents, Panorama, Fireworks, Beach & Snow, Fisheye Conv., Wide Conv., Macro Conv., Panning, 3D
Built-in flash
No (Compact external flash included)
External flash
Yes (via hotshoe)
Flash modes
Auto, redeye, fill, off, redeye slow sync, slow sync, 2nd-curtain slow sync, manual
Flash X sync speed
1/250 sec
Drive modes
Single
Sequential (hi/lo)
Self-timer
Continuous drive
10.0 fps
Self-timer
Yes (2 or 10 secs, custom)
Metering modes
Multi
Center-weighted
Spot
Exposure compensation
±5 (at 1/3 EV, 1/2 EV, 1 EV steps)
AE Bracketing
±5 (2, 3, 5, 7 frames at 1/3 EV, 2/3 EV, 1 EV steps)
WB Bracketing
Yes (+/- 7 stops in each A-B/G-M axis)
Videography features
Resolutions
1920 x 1080 (60p, 50p, 30p, 25p, 24p), 1280 x 720 (60p, 50p, 30p, 25p, 24p), 640 x 480 (30p)
Format
MPEG-4, H.264, Motion JPEG
Videography notes
Supports ALL-I and IBP recording modes
Microphone
Stereo
Speaker
Mono
Storage
Storage types
SD/SDHC/SDXC
Connectivity
USB
USB 2.0

(480 Mbit/sec)

HDMI
Yes (micro-HDMI)
Microphone port
Yes
Headphone port
No
Wireless
Built-In
Remote control
Yes (wired and via smartphone)
Physical
Environmentally sealed
Yes
Battery
Battery Pack
Battery description
BLN-1 lithium-ion battery & charger
Battery Life (CIPA)
310
Weight (inc. batteries)
469 g (1.03 lb / 16.54 oz)
Dimensions
124 x 85 x 45 mm (4.88 x 3.35 x 1.77″)
Other features
Orientation sensor
Yes
Timelapse recording
Yes
GPS
None
Video Review Kamera Olympus OM-D EM-5
Lalu untuk layar
Olympus OM-D EM-5
dikemas dengan model layar tilt berukuran 3". Layar OLED yang dimiliki mampu menghasilkan warna-warna yang kaya. Dengan tambahan layar sentuh, anda akan mampu mengoperasikan berbagai fitur dengan cepat seperti memfokuskan lebih cepat, melihat hasil foto dan pengaturan lainnya seperti exposure dan white balance. Meskipun kamera ini keluaran 2012, tapi sampai saat ini EM-5 masih sangat baik untuk mengdokumentasikan, street photography, travel atau dibawa sehari-hari karena hasil gambar, kualitas fisik dan kinerjanya masih bisa bersaing di format four thirds. Jika melihat spesifikasi mumpuni yang dimiliki, kira-kira berapa kocek yang harus anda sediakan untuk dapat memiliki kamera ini? Anda tidak perlu khawatir, hanya dengan menyediakan uang sekitar 16 jutaan anda langsung bisa membawanya. Miring bukan harganya.